WE CAN'T WAIT TO SEE YOUR KIDS AT CITY CAMP 23
Summer 23 we will be journeying to Highland Lakes Camp. Founded in 1954 on the beautiful shores of Lake Travis, Highland Lakes Camp is conveniently located just 35 miles west of Austin, tucked away in a wonderfully secluded Hill Country setting. With quality accommodations and adaptable program facilities able to serve groups of up to 750.
They seek to create an atmosphere that encourages relaxation and renewal and provides opportunities for life-changing experiences.
Your children will experience their friendly staff, who is committed to bringing exceptional service and the support necessary for their comfort. From delicious meals in the Dining Hall, to an exciting range of recreational and team-building activities, they are willing to go the extra mile to make your child(s) stay a memorable one.
PROMO VIDEO
Take a look into Highland Camp.
LIFE CHANGE HAPPENS THROUGH INTENTIONALITY:
We believe that God wants to take your children deeper in Him. To establish a relationship with them, so that they can know Him for themselves.
This week will be well worth it and life changing for your children. They will definitely know God in a better way.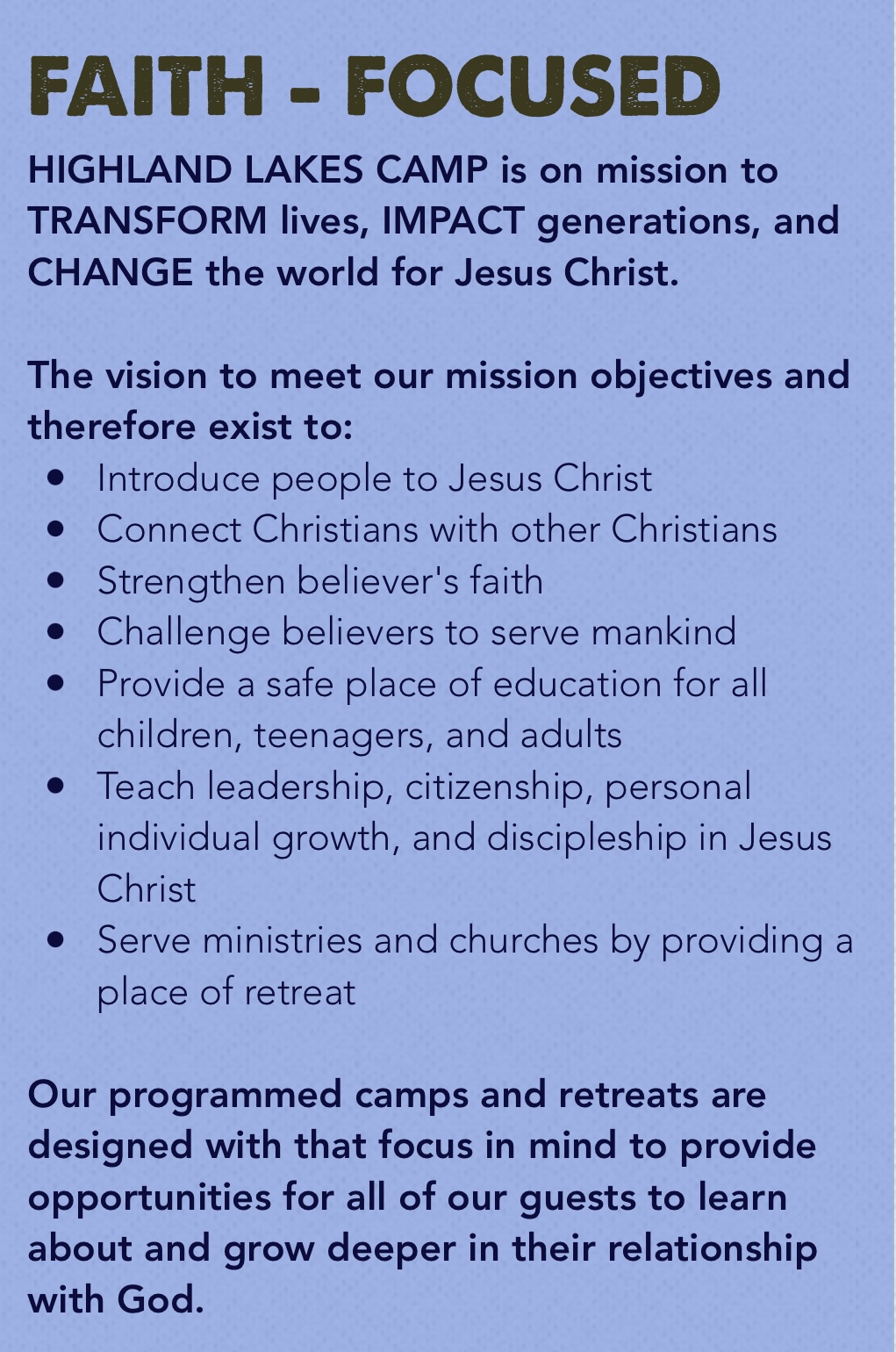 CAMP PAYMENTS
We thank you for allowing your children to attend our 23 "CITY CAMP".
-Please click below.
-Create or log into your account.
-Select "City Camp 23" from the giving category dropdown list.
-SUBMIT PAYMENT.
CAMP BREAKDOWN
All camp fees includes the following:
* Camp Transportation (to & from camp).
* Snacks during transit.
* Camp T-Shirt
June 20th-24th
Journey Camp is an amazing 5 day adventure (for grades 7th-12th) packed with exciting activities, deep fellowship time, powerful worship, and – most importantly – God's truth.
Students are challenged in their relationship with Christ and with each other as they encounter God's love and the joy of a life devoted to Him.
July 30th-August 2nd
Lift is an exciting four day program designed for students who have completed 3rd-6th grade. Campers will experience interactive Bible studies, high energy worship celebrations, small group discussions, and plenty of wild and fun outdoor activities.
This is all to ensure an unforgettable camp experience leading preteens towards knowing Christ and growing in relationship with Him.
July 28th-29th
Kid's Camp is a great way for children 1st-3rd grade to have their first camp experience at Highland Lakes Camp! This one night camp is full of fun recreation activities, interactive Bible learning, and some camp essentials to give your child a camp experience like no other.
HIGHLAND LAKES CAMP & CONFERENCE CENTER
5902 PACE BEND RD. N,
SPICEWOORD, TEXAS 78669
512-264-1777